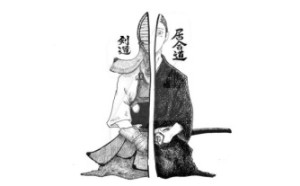 15th Iaido & Kendo AkiGasshuku 2017
Iaido dan examinations 1-3 dan
Sat 7 & Sun 8, 2017
Organized by Furyu Dojo Athens under the auspices of Hellenic Kendo Iaido Naginata Federation
Place
Sport Center Leonteio Lykio Patission; Neigi 14, Patissia, Athens
Schedule
Sat 7 Oct, 2017
1000-1230, Iaido keiko
1230-1330, Lunch break
1330-1500, Iaido keiko
1500-1600, Nihon Kendo kata (all participants)
1600-1700, Kendo keiko & free Iaido keiko
Sun 8 Oct 2017
1000-1230, Iaido keiko
1230-1330, Lunch break
1330-1430, Kendo keiko & free Iaido keiko
1430-1600, Iaido examination 1 kyu, 1-3 dan
Practice will be directed by ODA Katsuo sensei, Iaido hanshi 8 dan, kendo Kyoshi 7 dan
Assisted by,
SAUVAGE Jean Jaques, Iaido kyoshi 7 dan, Kendo 5 dan, CNK
BRUWIER Phillipe, Iaido renshi 7 dan, Kendo 3 dan, ABKF
MAES Christiaan, Kendo renshi 6 dan, Iaido 3 dan, ABKF
SIMONINI Michael, Iaido renshi 6 dan, Kendo 3 dan, ABKF
MATSUI Terue, Kendo renshi 6 dan, ABKF
KANTO Yuki, Iaido 6 dan, ABKF
DROSSOULAKIS Spiros, Iaido 6, dan, Kendo 4 dan, HKINF
CARLIER Freddy, Iaido 5 dan, Kendo 5 dan, ABKF
Rules
Participation is open to all kenshi members of HKINF and of EKF / FIK affiliated federations
Iaido practice will focus on ZNKR Iaido. Special group for Iaido beginners.
Nihon Kendo kata practice is for all Iaido & Kendo participants; please bring your bokuto.
Organizers assume no liability of any kind.
Each participant agrees to be photographed and/or filmed and gives full and complete permission for the use of his image / video in all kind of media including internet.
 
Registration:
By e-mail at spirosd@otenet.gr ; stating: full name(s) / Club/Dojo / intended participation.
A confirmation of your registration will be returned
You may settle your payment by bank transfer before Tuesday 3/10/2017.
Bank EUROBANK, IBAN, GR5002602440000110200218483, Bank Swift Code, EFGBGRAA, Beneficiary name: S. Drossoulakis ; Please mention depository name.
Registration and payment on the spot is also possible; however pre-registration by Tuesday 3 October 2017 will be very helpful for the organizers.
Participation Fees:
Full Participation (2 days): Iaido & Kendo, 50 € – Kendo only, 20 €
Sat 7/10 or Sun 8/10 (1 day): Iaido & Kendo, 30 € – Kendo only 10 €
 
IAIDO GRADING 1 Kyu & 1-3 Dan (organized by Hellenic Kendo Iaido Naginata Federation)
On Sunday 8 October 2017 at 13:30, at the same venue, Hellenic Kendo Iaido Naginata Federation will conduct an Iaido Grading 1-kyu & 1-3 dan.
Grading will be conducted under EKF Rules and is open to practitioners from all EKF member organizations.
Attendance of the 15th AkiGasshuku 2017 is a prerequisite for participation at the grading.
Grading Instructions:
Application: by Friday 29 September 2017, to HKINF Deputy General Secretary Anagnostopoulos Christos, e-mail: eokin.depsec@gmail.com (attached form). No applications will be accepted following that date.
Examinee Confirmation: Sunday 8 October 2017, at 1230, in examination venue, to HKINF Iaido Grading Officer, Kyriakopoulos Ioannis; payment of respective examination fees. Non HKINF members should provide written authorization from their respective Federation President.
Registration of successful candidates: following examination in venue; payment of respective Registration Fees.
Responsibility for the examination: HKINF Iaido Grading Officer, Kyriakopoulos Ioannis, info@hakushinkai-athens.gr
Examination Fees
1Kyu / 1 dan: Participation 20 €, Registration 10 €.
2 dan: Participation 25 €, Participation 15 €.
3 dan: Participation 30 €, Participation 20 €.
 
Suggested Accommodation,
XENOPHON Hotel, Acharnon 340 Athens, tel: (0030) 210 2020310, fax (0030) 210 2020320, www.xenophon-hotel.com (1.200 meters from venue).
Accommodation Booking is your responsibility.
HOW TO REACH THE VENUE
By car/motorbike/bicycle: at the end of Patission str. enter Chalkidos str. (direction Nea Philadelfia) and immediately after the train bridge turn left into Ionias Avenue, moving in parallel with the train lines. The first street to the right is Neigy str. There is an underground parking below the Sport Center of Leonin Lyceum.
By Metro: exiting the "ANO PATISSIA" metro station, cross Chalkidos str. and follow Ionias Avenue (keeping train lines on your left). First street to your right is Neigy str. Distance approximately 300 meters.
By bus, line B8: getting off at the Bus stop "Leonin" on Chalkidos str, follow Evans str. and you reach Neigy str. at the Sport Center Leonin Lyceum. Distance approximately 200 meters.
From Hotel XENOPHON: Coming out from the hotel entrance, walk to your left, along the metro line (keeping the lines on your right). At approximately 1.000 meters you will reach Neigy str. Turn left and Leonin Lyceum is only a few steps away.
For Information: Spiros G. Drossoulakis, mbl 0030-6944-674414, e-mail spirosd@otenet.gr
Looking forward to meet and train together in Athens